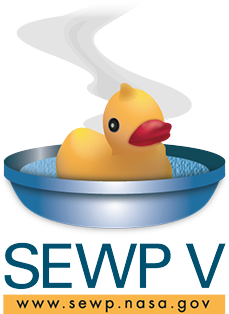 CyKor, LLC
DUNS: 080415889
CAGE: 7QKG2
Contract Number: NNG15SD66B
POP Effective Through: 04/30/2025
Group C
Business Designations: SDVOSB, Small Business, VOSB
SEWP V and CYKOR Overview
NASA's Solutions for Enterprise-Wide Procurement (SEWP) is a Government-Wide Acquisition Contract (GWAC) that provides IT products and related services to Federal agencies and their authorized contractors. As authorized by OMB, NASA SEWP is a Firm Fixed Price (FFP), Indefinite Delivery, Indefinite Quantity (IDIQ) contract available for use by all Federal agencies. On its fifth iteration, SEWP offers a wide scope of IT solutions across many technology areas.
CyKor is a Service-Disabled Veteran-Owned Small Business (SDVOSB) created to help clients meet their IT objectives through full solution development and delivery. To accomplish this, we leverage our engineering expertise and partnerships with leading manufacturers to bridge the gap between modern technology and the needs of your agency.
The United States Government sets aside contract benefits for companies considered 'Service-Disabled Veteran-Owned Small Business' (SDVOSB). For a business to be considered "Service-Disabled Veteran" must be at least 51% owned by an individual who can be considered by the government as a Service-Disabled Veteran. The terms "veteran" and "service-disabled veteran" are defined in 38 U.S.C 101(2) and (16). Visit the SBA website for more information.
How to Obtain a Quote
The recommended method for requesting a quote is through SEWP's Quote Request Tool. Customers can visit www.sewp.nasa.gov and register for an account. With access to this portal, agencies can issue Requests for Information, Market Research Requests, and Requests for Quote as well as issue Delivery Orders. All SEWP Delivery Orders must be routed through the SEWP Program Office at sewporders@sewp.nasa.gov for processing.
Please reach out to sewp@cykor.com for any questions related to the quoting and ordering process for SEWP.
Surcharge
SEWP offers low prices, the lowest surcharge and the easiest and fastest ordering procedure using pre-competed contracts. As of October 1, 2020, the SEWP surcharge for all orders is a 0.34%. The fee is included in the price of all products and is not separately listed on quotes. It is the Contract Holder's responsibility to pay the fee from their quoted product prices.
Warranty, Installation, and Technical Support
Available basic and extended warranty offerings are specific to each manufacturer's product. Extended warranties can vary in support levels and usually range from 12 to 36 months after the initial start date. CyKor can work with the customer to determine the best option based on the requirement. We can also provide installation and technical support for our top OEMs as required by the customer.
How to Troubleshoot a Problematic Order
For any questions or concerns related to an order, please contact our SEWP support team at sewp@cykor.com. CyKor is ready to assist with any issues that may arise and will work toward a speedy resolution.